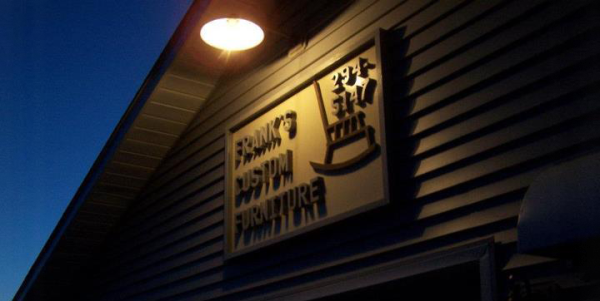 Mission Statement
Our mission at Frank's Custom Furniture is to provide our customers with furniture of the highest quality and craftsmanship, whatever your budget, that lasts for generations.
"We approach every project as a collaboration with each customer; understanding their vision, matching their lifestyle, and thereby fulfilling their dream."


Twenty -seven years ago I made my husband's hobby into a part- time business and now full time. It's a Family Run business.
Mike Frank loves working on furniture, designing pieces to fit into today lifestyles, to meet the needs of our busy lives.
As well as working on any job that comes in the shop. There is No owner manual in what we do and no job we can't handle

Remember back in the day when people took pride in their work and Handcraftsmanship meant something.
Well at Frank's Custom Furniture still believe in that. We take pride in restoring Antique furniture like it was when it was new. We strive to obtain the period pieces and its hardware to be true to the piece that we are restoring.


We have been offering Eco- friendly furniture for 27 years.
What makes us unique is we have been using Minnesota grown trees to build
furniture. Solid wood, handcrafted as well as customize to our customer's needs and wants.

One of services we offer is Hand woven caning which is called peg caning which is a lost art form that we do.


We take pride in creating a unique piece or pieces of furniture to be as
unique as our customers. One of a kind.
Whether it's matching fabric to finish, or paint samples, we will color
match it.
I do not know another furniture company that does this service.
Frank's Custom Furniture has been taking care of your furniture needs for
over 26 years

Mike & Tammy Frank
Frank's Custom Furniture
320-294-5147